The April 2022 National Insurance increase that was announced by the Prime Minister on the 7th September will have a large impact on employees.
What does this mean for employees?
Depending on how much an employee earns, they can expect to see a decrease or an increase in their take home pay due to the NI hike. An employee who is earning £30,000 with a total take home pay of £23,113 can expect this figure to increase by £55. This will result in a yearly take home pay of £23,168 from April 2022. However, an employee who is on £50,000 with a total take home pay of £35,914 can expect this figure to decrease by £195. This will result in a yearly take home pay of £35,718.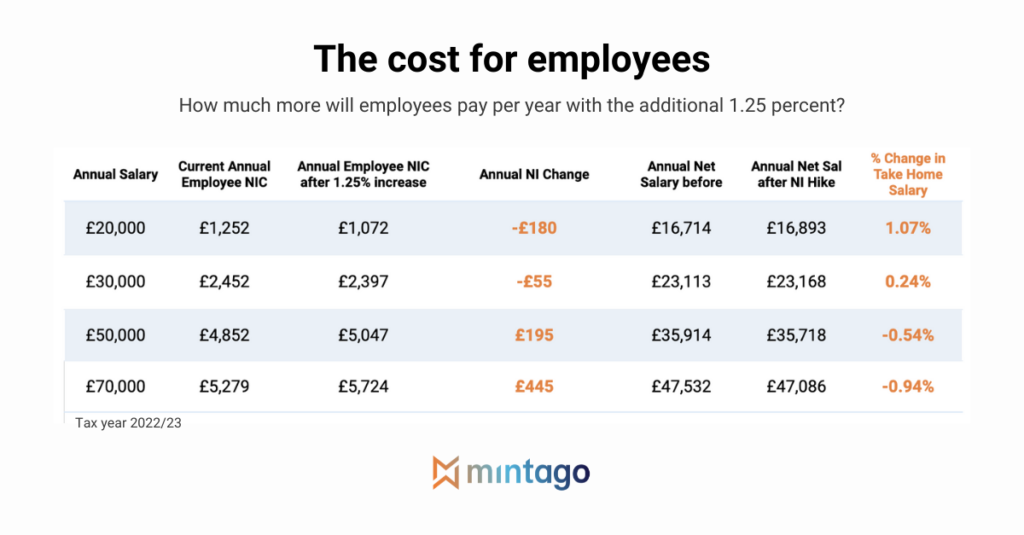 Employees are likely to be accustomed to the amount of money that they take home each year, planning their finances accordingly. Any decrease in pay could see employees facing financial difficulties, therefore increasing their stress levels. An increase in stress levels for your employees is likely to affect their work ethic and productivity, with this having a negative impact on your businesses success.
What are employers' options?
Mintago can help to minimise the effect of the National Insurance increase on your employees by helping you to implement the HMRC salary sacrifice pension scheme. This scheme enables you as an employer to minimise the impact of the National Insurance increase on your business. This reduces National Insurance liability for employers and employees and saves both parties money. Employees will initially see their gross pay decrease, but their net take home pay will actually increase. This is a win-win situation for both parties.
Salary Sacrifice pension can support your business and employees by leaving more money available to spend on other parts of your business instead of large National Insurance contributions. For example, employee wellbeing services such as gym memberships can be prioritised. Benefits such as these will increase the mental and physical wellbeing of employees who will therefore be more productive in the workplace. An increase in employee productivity will see your business become more successful.
Supporting employees' wellbeing
Research shows that there is concern amongst employees who are earning between £9,568 and £50,270. Employees falling into this bracket currently pay 12% of their wages in National Insurance contributions. However, those earning more than this amount only have to pay 2% of National Insurance contributions on their earnings. Therefore, employees who earn less are likely to be far more affected by the increase. These employees will need extra support from employers to ensure that they are not majorly financially impacted and unable to work efficiently as a result.
Supporting your employees wellbeing is crucial during the National Insurance hike to ensure that stress levels do not peak. Providing employees with the knowledge and understanding needed to navigate the hike efficiently will empower them to make the best choice when it comes to their pension contributions. Mintago's financial wellbeing platform has over 1,000 pieces of content and allows employees to take control of their pension contributions whilst designing their retirement. Becoming financial & pension confident will ensure that employees are as prepared as possible when the hike is put into place.